Quality Guarantee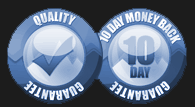 NoneCG guarantees that any product you purchase will function and look as described and shown in the product preview.Our artists take great care to fully show and describe each product, so your first step in ensuring quality is to look over the product's thumbnails and description. If you have any questions
about what a term means or what the product really includes, you can contact us before purchase. We'll be glad to assist you in ensuring the product meets your needs.
Should a product not function or look as advertised, you can contact NoneCG for a resolution. Should this not solve the problem, NoneCG will issue a full refund, under the condition that you have notified NoneCG within ten (7) calendar days of the purchase.
Refund and return policy
If you have purchased a model and you feel there is either a functional problem or a misrepresentation by the product's screenshots and description, we are dedicated to work with you to make the situation right. We are available 24 hours a day, 7 days a week to help you.Customers are eligible for refunds when something is clearly wrong with a product or if the file contents and/or quality have been misrepresented by the artist.
Customers are only eligible for a refund if we are notified within 7 days of purchase – please alert us immediately if you have a problem.If a refund is granted, you are legally bound to destroy all copies of the purchased files. We require that you sign a binding document stating that you no longer have the rights to use or keep any of the purchased files.We encourage you to contact Support prior to purchase if you have questions about an item you are considering for purchase.
We are happy to provide you with as much information as possible to make sure you get the product that best suits your needs. We are available 24 hours a day, 7 days a week.
NoneCG Staff
Top Quality 3D content on the web